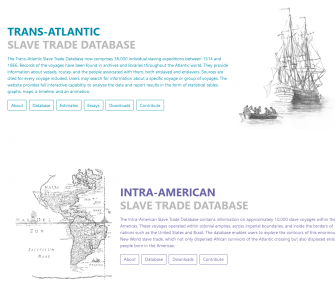 The Trans-Atlantic and Intra-American slave trade databases are the culmination of several decades of independent and collaborative research by scholars drawing upon data in libraries and archives around the Atlantic world.
The new Voyages website is the product of three years of development by a multi-disciplinary team of historians, librarians, curriculum specialists, cartographers, computer programmers, and web designers, in consultation with scholars of the slave trade from universities in Europe, Africa, South America, and North America.
The Slave Trade Databases comprise tens of thousands of individual slaving expeditions between 1514 and 1866. Records of the Trans-Atlantic and Intra-American voyages have been found in archives and libraries throughout the Atlantic world. They provide information about vessels, routes, and the people associated with them, both enslaved and enslavers. Sources are cited for every voyage included. Users may search for information about a specific voyage or group of voyages. The website provides full interactive capability to analyze the data and report results in the form of statistical tables, graphs, maps, a timeline, and an animation.
The database enables users to explore the Trans-Atlantic trade routes as well as the contours of the enormous New World slave trade, which not only dispersed African survivors of the Atlantic crossing but also displaced enslaved people born in the Americas. These voyages operated within colonial empires, across imperial boundaries, and inside the borders of nations such as the United States and Brazil.
Finally, the Image Galleries and African Names Database illustrate the history. In the galleries, explore several hundred images of the people, places, vessels and manuscripts of the Trans-Atlantic and Intra-American slave trades. The African Names database provides personal details of nearly 100,000 Africans taken from captured slave ships or from African trading sites. It displays the African name, age, gender, origin, country, and places of embarkation and disembarkation of each individual. [Descriptions from the website.]