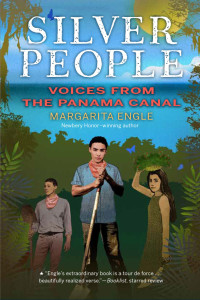 Using her trademark style — multiple voices in free verse to share untold historical events — Margarita Engle introduces young readers to the builders of the Panama Canal.
The protagonist is Mateo, a young boy from the Caribbean, lured with promises of good pay and work. Instead, he finds an apartheid system where people of color are subjected to treacherous working conditions and paid in silver; the whites are paid in gold. Mateo learns how horrific life in Panama will be when he and the other new workers are measured, on their arrival, for coffins.
Engle includes the voices of plants and animals to chronicle the devastating impact of the canal on the environment. Grades 7 and up.
ISBN: 9780544668706 | Harcourt Brace and Company