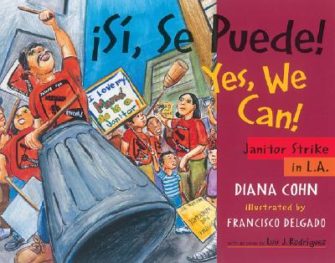 Carlitos' mother is a janitor. Every night while he sleeps, his mother cleans in one of the skyscrapers in downtown L.A. One night, his mamá explains that she can't make enough money to support him and his abuelita the way she needs to unless she makes more money as a janitor. She and the other janitors have decided to go on strike. Will he support her and help her all he can?
Of course, Carlitos wants to help but he cannot think of a way until he sees his mother on TV making a speech in support of the strike. Finally, Carlitos knows how he can show his mamá how proud he is of her. He and the other children in his class make posters and Carlitos joins the marchers with a very special sign for his mom! [Publisher's description.]
ISBN: 9780938317890 | Cinco Puntos Press
Related Resource
Article by Linda Christensen in Rethinking Schools, "Reading and Writing the World."
Although the book's intended audience is elementary students, ¡Sí, Se Puede! Yes, We Can! can be used as a model across grade levels. Teachers might use the book as an opening for a variety of lessons — on unions, strikes, solidarity, or local cuts in education budgets. In a recent workshop, I used it to raise the question of who is invisible in our lives. See full article.