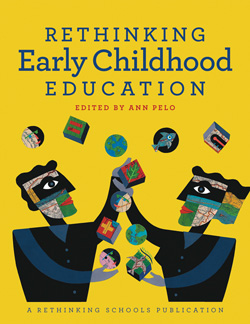 Rethinking Early Childhood Education is alive with the conviction that teaching young children involves values and vision. This anthology collects inspiring stories about social justice teaching with young children. Included here is outstanding writing from childcare teachers, early-grade public school teachers, scholars, and parents.
Early childhood is when we develop our core dispositions — the habits of thinking that shape how we live. This book shows how educators can nurture empathy, an ecological consciousness, curiosity, collaboration, and activism in young children. It invites readers to rethink early childhood education, reminding them that it is inseparable from social justice and ecological education.
An outstanding resource for childcare providers, early-grade teachers, as well as teacher education and staff development programs.
ISBN: 9780942961416 | Rethinking Schools