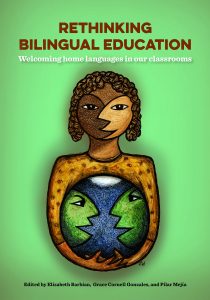 Rethinking Bilingual Education, edited by Elizabeth Barbian, Grace Gonzales, and Pilar Mejia, is an exciting collection of articles about bringing students' home languages into our classrooms.
How do we bring social justice curriculum into our bilingual classrooms?
How can we honor our students' native languages, even when we don't teach in a bilingual setting?
How do we involve diverse groups of parents in our classrooms and schools?
What can we learn from Indigenous language immersion about the integral relationship between language and culture?
How do we elevate the status of non-dominant languages when there is so much pressure to prioritize English?
The articles in Rethinking Bilingual Education show the many ways that teachers bring students' home languages into their classroom — from powerful examples of social justice curriculum taught by bilingual teachers to ideas and strategies for how to honor students' languages in schools with no bilingual program. We see bilingual educators work to keep equity at the center and to build solidarity among diverse communities. Teachers and students speak to the tragedy of language loss but also about the inspiring work to revitalize languages on the brink of disappearance and to defend and expand bilingual education programs. [Description from Rethinking Schools.]
ISBN 9781937730734 | Rethinking Schools