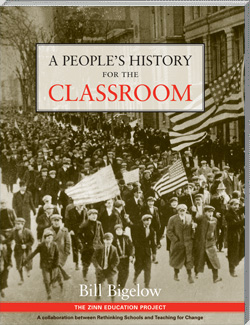 A People's History for the Classroom helps teachers introduce students to a more accurate, complex, and engaging understanding of U.S. history than is found in traditional textbooks and curricula.
It includes an introductory essay by veteran teacher Bill Bigelow on teaching strategies that align with Howard Zinn's A People's History of the United States.
These exemplary teaching articles and lesson plans — drawn from an assortment of Rethinking Schools publications — emphasize the role of working people, women, people of color, and organized social movements in shaping history, and raise important questions about patterns of wealth and power throughout U.S. history.
An understanding of the "people's history of the United States" provides the perspective and analytical tools so important for making sense of — and improving — today's world.
A People's History for the Classroom was produced by Rethinking Schools in cooperation with Teaching for Change, as part of the Zinn Education Project.
ISBN: 9780942961393.
Reviews
I can think of no better way to excite young people about the history of our country than to introduce them to the teaching activities in A People's History for the Classroom. —Howard Zinn, author of A People's History of the United States