By Moé Yonamine
"Because our islands are our life," Akeke said into the mic in front of more than 1,000 people gathered in the Roosevelt High School commons for our Unity Fest.
On this Friday night, our Ethnic Studies classes had organized an event to bring our community together — one of the most diverse schools in Oregon. Combatting overt acts of racism in our neighborhood, students like Akeke had stepped up in front of a sea of families and peers to deliver a piece of themselves. The entire Pacific Island (PI) Club stood behind him, 27 students strong, shouting together "1.5!" — demanding the world adhere to the target of no more than 1.5° Celsius of warming over pre-industrial levels.
"Because my people's homes are being destroyed," read Eseta.
"Because my home is dying and we don't want to be known as 'climate refugees,'" echoed Leka.
"1.5!" The room vibrated with the collective boom that spread through the commons as phones recorded and parents crowded in for a better view. "1.5," J.J. bounced as he shouted, as if trying to reach the rest of the world with his voice.
My students represent a diversity of islands, cultures, and experiences from Polynesia, Melanesia, and Micronesia. In early May, all of the PI Club students squeezed into my classroom on a hot spring day, determined to learn, organize, and advocate for their ancestral islands in the face of climate change. This was not a new journey for some with older siblings and cousins who had testified three years ago at a school board meeting and met with district representatives to demand that we stop using textbooks that lie about climate change. From stories students told in my classroom after school, conversations with students' families, and personal writings, I knew how many of our PI students and families are threatened by the impact of climate change to their home islands.
It was with this in the bellies of their souls that the students walked out for the March 15 climate strike. My Ethnic Studies students had just participated in a Pacific Climate Warriors role play, portraying island peoples finding solidarity to help each other fight for justice through the United Nations. My students walked out to join more than 2,000 young people from around Portland who had gathered to march. Upon their return to campus, Gwenn came into my classroom with her friends and cousins and plopped down at the table.
"So, how was the march?" I asked.
"It was so emotional. It made me cry," she said. "I didn't think I'd get emotional like that. So many people were out there and I couldn't stop thinking about our islands," she said.
"But they didn't let us talk," said Makeleta.
During the student speeches part of the rally at the end of the march, student after student went to the mic but none was Pacific Islander. The students had asked to say a few words and were told there was no time. "How can you say that you don't have time to hear from us?" said Gwenn.
"This isn't just some issue," said Makeleta. "This is about my family," she echoed.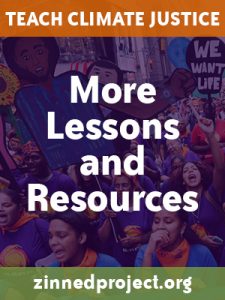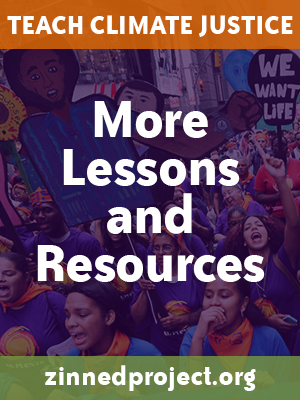 A number of my students were set to attend the PPS (Portland Public Schools) Climate Justice Committee's strategy day in April. My students expressed the urgency in representing their voices as PI students within the broader fight for climate justice education. Nine students from Roosevelt attended, blending in with about 50 high school and middle school students across the district. They spent the day analyzing the PPS climate justice resolution that Roosevelt PI students before them had helped propose and pass just three years ago. My students were now strategizing ways to hold PPS accountable.
At the end of the meeting, students developed actions they could take to push for a bold climate justice education. "Have a PI version of this meeting," said Melipone. "We need to talk together first because this is an emergency for us," he said. This became one of the key demands from the youth gathering.
Back at school, Akash said, "I hate that we have to keep waiting and ask PPS for money when this is so serious for us. I say we just do it. Just do the PI Summit, with or without PPS." And from there, the idea of a PI Climate Youth Summit was born with the seniors taking the lead in organizing an action project.
The next week, a three-hour summit was ready, with facilitation by Kathy Jetñil-Kijiner and Makerusa Porotesano. Kathy had been to my classes several times in recent years, teaching students about the power of poetry to talk back to the world, modeling stories from the Marshall Islands in a voice of resistance. Makerusa had presented about climate change and the often untold histories of Samoa to my Ethnic Studies classes. The students knew right away that they wanted Kathy and Makerusa to lead them to a place where they can learn, gather their voices, and find their own fight as immigrants and members of a Pacific Island diaspora.
Through the course of the afternoon, wrapped up in an unbearably hot classroom with 11 fans blowing, climate change was the joke of the day as students sat uncomfortably. Despite the heat, students were eager to understand climate change, to be educated about fighters who look like them, and to joyfully connect across stories and laughter of island culture.
At the end of the afternoon, Kathy turned to the board and wrote, "1.5 because . . ." And from there, each student wrote — some about memories of being home, a few telling about sacred grandparents and family members they left behind and others addressing the pain, the fight, and the determination of rising up together. Threading the poem together in one collective voice, everyone agreed that this was the piece they had to do together at the Unity Fest as PI Club — to show up for their communities and home islands symbolically as one.
Stepping up to the four microphones facing the huge crowd of people at the Unity Fest, the students roared "1.5!" to the screaming and clapping of their peers and families.
"It's either walk now or swim later," said Akash.
"Because if our islands drown, our identity goes with it," read Leka.
"And I don't want to lose my roots," said Kaiya.
Taking the words of 350 Pacific's Climate Warriors, the 27 students closed in unison:
Because we are not drowning.
We are fighting.
---
Moé Yonamine teaches at Roosevelt High School in Portland, Oregon. She is a Rethinking Schools editor and co-editor of the third edition of The New Teacher Book.
---
1.5 Degrees, Because . . .
By the students of Roosevelt's Pacific Island Club
1.5
Because our islands are our life
Our loved ones are there
Our animals roam free in paradise
1.5
Because the coconuts my mom always talks about
The sweet pineapple, taro, and lu sipi as a part of who we are
Listening to our elders' ancestral stories
1.5
Because people's homes are being destroyed
Our music is becoming extinct
Our sacred coral will die
1.5
Because family members are dying
My home is dying
And we don't want to be known as climate refugees
1.5
Because our islands shouldn't be history but something to live on forever
It is where our heart is
It's what our lives and futures depend on
1.5
Because if our islands drown, our identity goes with it
And I don't want to lose my roots
1.5
Because the sinking of my friends' islands
Protecting the treasure of our people
The warming of the globe that our islands made the smallest impact on
1.5
Because of my history and ancestors
Our cultures valuable to each of us from different islands
1.5
Because my roots come from there
It's where I grew up
It's where my family is
It's where my life is
It's a part of me
1.5
Because I don't want to lose the ocean that we swim in and the beach that we eat on
I don't want to see more of my family members struggle through the "American lifestyle"
I don't want to see my family go through the pain of leaving their home
1.5
Because the islands is what represents me
and I want to be able to show my kids and grandkids where we come from
1.5
Because our feelings matter
It's either walk now or swim later
and we don't want to be known as climate refugees
1.5
Because our voices need to be heard loud and clear
1.5 because "we are not drowning, we are fighting"
---

This article originally appeared in the Summer 2019 issue of Rethinking Schools. Subscribe to the Rethinking Schools magazine today.
---