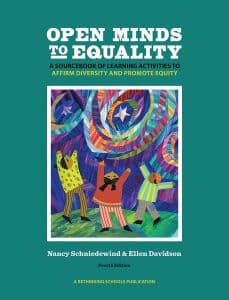 The fourth edition of Open Minds to Equality contains a wealth of updated information and resources. New lessons address immigration, anti-Muslim discrimination, gender identity, and bullying. The comprehensive, annotated bibliography has been revised and updated.
Open Minds to Equality is an educator's sourcebook of activities to help students understand and change inequalities based on race, gender, class, age, language, sexual orientation, physical/mental ability, and religion.
The activities promote respect for diversity and interpersonal equality among students, fostering a classroom that is participatory, cooperative, and democratic.
An essential resource for teachers, leaders in professional development, and curriculum specialists.
Features
Ready-to-implement learning activities in both traditional and interdisciplinary curriculum areas.
An inclusive framework for thinking about diversity and responding practically to various forms of difference in classrooms.
A variety of lesson styles including role plays, case studies, dilemma stories, cooperative learning activities, interviews, data analysis, and creative and expository writing.
Sequenced activities to build awareness and understanding.
An engaging, readable format with helpful instructions.
ISBN: 9780942961607 | Rethinking Schools
Praise
"A much-needed resource for educators at all levels who are interested in promoting critical thinking in their classrooms and social change in their communities. I highly recommend it!" —Beverly Daniel Tatum, author of Why Are All the Black Kids Sitting Together in the Cafeteria?
"Since its first edition, Open Minds to Equality has been ahead of its time, challenging us to think seriously about how teachers and students might work to create a more just world. As required reading for classes I teach, current as well as pre-service teachers find Open Minds to Equality to be a practical and useful resource that generates new insights on their own learning about diversity. " —Joan May T. Cordova, National vice president of the Filipino American National Historical Society (FANHS) and a professor at Drexel University, School of Education, Philadelphia