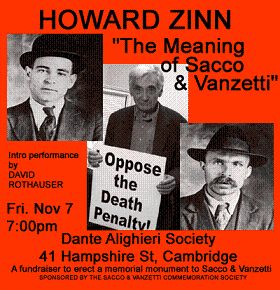 Nicola Sacco and Bartolomeo Vanzetti were two Italian-born immigrants, workers, and anarchists, who were tried and convicted in 1921 for the armed robbery and murder of two payroll guards. After seven years of legal appeals and international protest, the two men were executed on August 23, 1927, in Boston for a crime that many felt they did not commit and by a judicial system that was patently biased and unjust.
On November 7, 2008, Howard Zinn offered a lecture on "The Meaning of Sacco and Vanzetti" at the Dante Alighieri Society Italian Cultural Center, in Cambridge, Massachusetts. In his lecture, Howard Zinn indicated the relevance of the Sacco and Vanzetti case for the United States today. Nearly 250 people attended the event, sponsored by the Sacco & Vanzetti Commemoration Society (SVCS) and hosted by the Dante Alighieri Society.
Historian Bob D'Attilio started the program with notes about the funeral procession that took place in Boston in August 1927. Actor and film maker David Rothauser introduced Zinn's lecture with readings from the letters of Sacco and Vanzetti. David Rothauser is the writer/producer of the docudrama, The Diary of Sacco and Vanzetti.
Related Resources