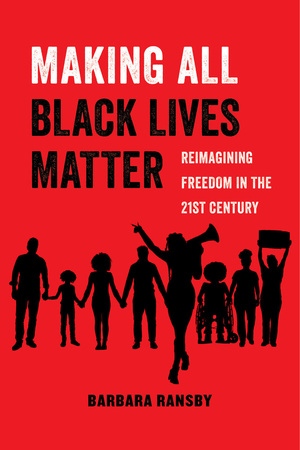 Blackbird. Black Youth Project 100. Dream Defenders. Organization for Black Struggle. Million Hoodies Movement for Justice. Leaders of a Beautiful Struggle. Let Us Breathe Collective. Millennial Activists United. Tribe X. Hands Up United. Lost Voices. Black Organizing for Leadership and Dignity. BlackOUT Collective. INCITE! Project NIA. SisterSong. Mijente. We Charge Genocide. Critical Resistance. Malcolm X Grassroots Movement. Highlander Center. Southerners on New Ground. Project South. James and Grace Boggs Center. Black Feminist Futures Project. Ciara Taylor. Nelini Stamp. Philip Agnew. Ahmad Abuznaid. Gabriel Pendas. Michael Sampson. Nailah Summers. Curtis Hierro. Jonel Edwards. Steven Pargett. Eli Armstrong. Sandra Khalifa. Sherika Shaw. Rachel Gilmer. Charlene Carruthers, Patrisse Khan-Cullors. Tef Poe. Maytha Alhassen. Cathy Cohen. Malcolm London. Jessica Pierce. Charity Tolliver. Aisha Truss-Miller. Asha Ransby-Sporn. Jonathan Lykes. Chris Buford. Karess Taylor-Hughes. Jazz Hudson. Terrance Laney. Rose Afriyie. Johnáe Strong. Breanna Champion. Valerie Papillon. Rachel Williams. Brianna Gibson. Janae Bonsu. Jasson Perez. Angie Rollins. Fresco Steez. Camille Odeh. Mariame Kaba. Brittany Ferrell. Merv Marcano. Alicia Garza. Tony Rice. Ebony Williams. Derek Robinson. Diamond Latchison. Low-Key. Kayla Reed. Jamala Rogers. Rasheed Aldridge. Nabeegah Azeri. Elizabeth Vega. Julia Ho. Damon Davis. Alexis Templeton. Ashley Yates. Larry Fellows III. Darnell Moore. Rev. Osagyefo Sekou. Johnetta Elzie. Alisha Sonnier. Montagne Simmons. Maurice (Moe) Mitchell. Marisa Franco. Opal Tometi. Ayoka Turner. Nikita Mitchell. Miski Noor. Kandace Montgomery. Shanelle Matthews. Dara Cooper. Rosa Clemente. Byron Hurt. Margaret Prescod. Paris Hatcher. Page May. Ash-Lee Henderson. Linda Burnham. Makani Themba.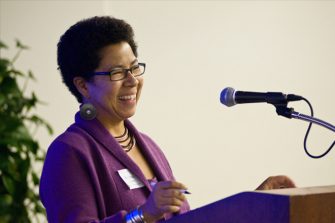 This is an (incomplete) list of the individuals and organizations included in the first three chapters (roughly 80 pages) of Barbara Ransby's new history of the Black Lives Matter movement, Making All Black Lives Matter: Reimagining Freedom in the 21st Century. Ransby describes her book as a "love letter to the organizers in the Movement for Black Lives, and a tribute to their increasingly expansive vision."
But Ransby's book is no Hallmark-style love letter dealing in platitudes and generalizations; the brilliant multiplicity of names and groups that emboss the book's pages are a powerful testament to the Black lives at the heart of this movement, to the unique contributions of the individuals who make up its many organizations.
Making All Black Lives Matter is a love letter from one grassroots organizer to her peers. Ransby takes care to demonstrate that for every viral hashtag, nationally recognized activist, or large-scale protest, there are dozens of mostly anonymous community organizers and grassroots groups facilitating the political groundwork, holding space for action, offering guidance and support, building, educating, connecting, pushing, inspiring. Recognizing — and naming — the unsung heroes in this history of a movement-in-the-making is itself a political act, an assertion of the centrality of bottom-up activism. Ransby's book emphatically shows that movements are made up of people, a few of whom might be exceptionally charismatic, brilliant, or brave, but most of whom are simply human, ordinary, relatable.
Ransby introduces us to Brittany Ferrell, the young nursing student who returned early from a vacation to her home in Ferguson after learning on social media about the shooting of Michael Brown, who struggled to explain to her 6-year-old daughter the purpose of the protests they were joining, and who ended up losing her job as she threw herself into full-time organizing. We meet Kayla Reed, whose political activism in Ferguson became the foundation for a personal transformation when she came out as queer. As she told Ransby, "The movement affirmed a part of me that I was not affirming for 25 years." Ransby also acquaints us with Nabeegah Azeri, a parole officer who found herself handing out water bottles to Ferguson protesters because "I didn't know what else to do." For Azeri, water bottles led to mass meetings and more protests, which led to a full-time job at a local nonprofit, Missourians Organizing for Reform and Empowerment (MORE).
Ransby layers these stories of ordinary activists, into her overall argument that the Movement for Black Lives is rooted in a U.S.-based Black feminist tradition that insists on an intersectional analysis of oppression. By pairing the theoretical underpinnings of the movement with the people seeking to make those theories manifest, Ransby encourages readers to consider how they too might be moved to action in this dangerous moment. When Ransby writes, "We look to the new generation of organizers, dreamers, visionaries, and freedom fighters to forge out of this current state of emergency, this current bleak moment, a new path, for Black people, for all people, and for the planet," one feels that she is speaking not just to the amazing constellation of individuals profiled in her book, but to her readers, too.
We hope that some of Ransby's readers will be the educators and students taking part in this year's #BlackLivesMatterAtSchool week of action, February 4 -8, 2019. Here are a few ideas about how you might use Making All Black Lives Matter in your schools/classrooms. (Feel free to share more ideas by using the #BlackLivesMatterAtSchool hashtag.)
Have high school students read the short profiles of activists like Brittany Ferrell, Kayla Reed, Nabeegah Azeri, and others. These profiles could be used as models for students to write a personal narrative about a time they were moved to act against injustice or to consider an injustice they would like to address in the future.
Assign each student to learn about one of the many organizations profiled in the book. Have students do a mixer in which they share information with each other about the different organizations. After students have learned about a wide-variety of the groups, ask students to predict what will be in the mission statement for the Movement for Black Lives. Students can then read a bit of "A Vision for Black Lives: Policy Demands for Black Power, Freedom & Justice" to see how close their prediction matched the reality.
Assign each student to learn about one of the many activists profiled in the book. Have students write an interior monologue from the perspective of the activist they learned about. A possible prompt: What do you hope for? What do you fear? How are you working to change your community, country, and world? Next, do a mixer where students learn about the rich array of different activists in the BLM movement.
Book description and teaching ideas by Ursula Wolfe-Rocca.
ISBN: 9780520292710 | University of California Press