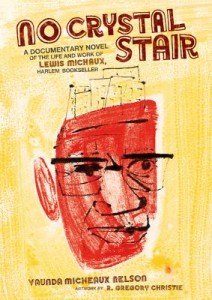 Finally a book to honor Lewis Michaux, whose bookstore in Harlem from 1932 to 1974 was a center of African American history, scholarship, debate, and activism. Referred to as the "House of Common Sense and the Home of Proper Propaganda", the store had over 200,000 texts and doubled as a library and meeting house.
As is fit to honor a noted bookseller, No Crystal Stair is a beautiful and unique text, designed in the form of a scrapbook.
It is full of diary-like chronological entries written in the voice of Michaux, his family, and those who frequented the store including Malcolm X and Nikki Giovanni. (Others who frequented the store included Muhammad Ali, Langston Hughes, and W. E. B. Du Bois.)
The scrapbook is interspersed with reports from Michaux's FBI files, newspaper reports, photos, and gorgeous illustrations by R. Christie. Michaux's childhood was "no crystal stair", making this an honest and engaging story for grades 7+.
ISBN: 9780761361695 | Carolrhoda Books
Author
Author Vaunda Micheaux Nelson's great uncle was Lewis Micheaux. The youngest of five children, Nelson grew up in Elizabeth, Pennsylvania. She is the author of Bad News for Outlaws: The Remarkable Life of Bass Reeves, Deputy U.S. Marshal (Carolrhoda Books, 2009) and Almost to Freedom (Carolrhoda Books 2003). She co-authored Juneteenth (Millbrook, 2006) with her husband, Drew Nelson. Nelson won the Coretta Scott King Author Award for Bad News for Outlaws, and Almost to Freedom received a Coretta Scott King Honor for Colin Bootman's illustrations. She has been a teacher, a newspaper reporter, a bookseller, a school librarian, and twice a member of the Newbery Award Committee. She was elected to the Caldecott Committee for 2011.