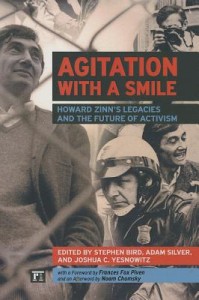 Agitation with a Smile offers a reappraisal of Howard Zinn's political thought and situates his efforts in a contemporary context, looking toward the nature of activism and dissent in the future. This is the first book to provide a substantive account and assessment of Zinn's philosophy and approach to collective action and, to a larger extent, democracy.
The contributors to this book explore the most effective mechanisms by which to arouse public support for seemingly radical positions and how current technological advancements may alter our perception of Zinn's activism. The book is a valuable guide to a new generation of activists and scholars of politics in gauging the lasting relevance and legacy of Zinn's ideals, concepts, and methodology.
The text is neither fawning nor unduly critical, unlike many discussions of Zinn in popular culture. Rather, the contributors to this book engage the various complexities and tensions present throughout Zinn's work and subject them to a twenty-first century assessment. This is a multi-disciplinary and international approach to Howard Zinn's intellectual and activist canon.
Features of the text:
Offers an intrepid and comprehensive framework for understanding Zinn's political philosophy and actions.
Explains the significance of Zinn's research and actions in a changing world of political struggle.
Provides a valuable appraisal of Zinn's political thought for a new generation of activists, scholars, and the engaged public.
[Publisher's description.]
ISBN: 9781612051826 | Paradigm Publishers
Excerpt of Review by Robert Lake in Teachers College Record
It has been four years since Howard Zinn's passing and it is only natural to still experience a palpable sense of loss when such a larger than life and deeply humane person is gone from us. Yet from what we know of his life, the last thing he would have wanted to see is a volume that recounts his legacy without challenging and inspiring the bereft to sustain and expand the embodied conversation that was and is his life. This book fairly and substantially critiques Zinn's philosophy of activism, yet in doing so, challenges the reader to move beyond internet activism or "clickivism" which certainly has its place. Zinn's legacy calls for direct, face-to-face, non-neutral and unorthodox democratic engagement, and this volume inspires one to such. This book consists of thirteen chapters, a foreword by Frances Fox Piven and an afterword by Noam Chomsky. The chapters are broken up into clearly delineated sections. This configuration is perfect for teaching the text without falling prey to the often overly specified arrangement of a textbook. In fact this book is so rich with significant concepts that it needs at least a semester of contemplative reading to be fully appreciated. As I read each section of this book I imagined myself walking through passenger "cars" on Zinn's famous metaphor of history as a "moving train" (2002) and each contributor sparked an inner dialogue with their unique readings and encounters with Zinn's life.