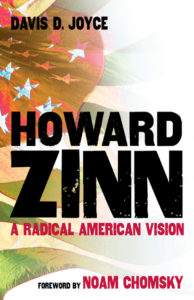 This biography of Howard Zinn traces in broad strokes the story of his life, placing special emphasis on his involvement in both the Civil Rights movement and the Vietnam War protests. Besides discussing the major shaping events of his life, biographer and historian Davis Joyce summarizes each of Zinn's books within the context of his life, analyzes the evolution of Zinn's ideas, and concludes with a preliminary assessment of his life's work.
Joyce argues that Zinn's views are radical because they seek to bring about fundamental change in the political, social, and economic order.
Joyce contends that Zinn's approach is rooted in the very ideals upon which the United States was founded, especially as embodied in the Declaration of Independence. His life has been motivated by the vision of what America could be, as opposed to what it actually is, and has been dedicated to the struggle to make that vision a reality. Joyce also considers how Zinn fits into the new left, radical school of historical writing of the 1960s and beyond.
For anyone who has ever been moved by Howard Zinn's unique vision of a better, more inclusive, and egalitarian American future, this biography will be an indispensable resource. [Publisher's description.]
ISBN: 9781591021315 | Prometheus Books
Endorsements
"[Joyce] has captured well the essence of Zinn's works in this concise biography. . . . should be read by both the non-historian and by the professional historian who has the courage to take an unblinkered glimpse at the constricted nature of the present discipline of history." —Tulsa World
"A powerful portrait of an extraordinary human being, America's great historian, teacher, activist, and citizen of the world! An important book!" —Ron Kovic, author of Born on the Fourth of July
"Howard Zinn has interpreted history brilliantly and shaped history courageously, an enduring achievement that he constantly renews. It is our good fortune that Davis Joyce has begun to capture the significance of this remarkable American hero in this useful and accessible book." —John Tirman, author of Spoils of War: The Human Cost of America's Arms Trade
Review