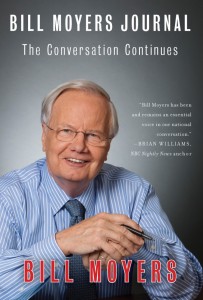 One of the highest-rated public affairs programs on public television, Bill Moyers Journal drew up to two million weekly viewers from 2007 to 2010. Through incisive, morally engaging conversations with some of the leading political figures, writers, activists, poets, and scholars at work today, the Journal captured the essence of the past three pivotal years in American life and politics, including the final act of the Bush Administration and the early years of Obama.
Bill Moyers Journal: The Conversation Continues brings this groundbreaking work to the page. Bill Moyers Journal: The Conversation Continues introduces the ideas that matter today — on subjects as diverse as the politics of food, race in the age of Obama, aging in America, the power of poetry, wars in the Middle East and Afghanistan, the conflict over gay marriage, and the fate of the American newspaper.
With extensive new commentary from Bill Moyers — in the tradition of his national bestsellers A World of Ideas and Healing and the Mind — here is an unparalleled guide to the debates, the cultural currents, and above all the fascinating people who have so powerfully shaped the world we live in. [Publisher's description.]
Includes Bill Moyers's conversations with:
Karen Armstrong
Andrew Bacevich
David Boies and Theodore Olson
Grace Lee Boggs
Ross Douthat and Mickey Edwards
Barbara Ehrenreich
Louise Erdrich
James K. Galbraith
Nikki Giovanni
Richard Goldstone
Jane Goodall
John Grisham
Susan Jacoby
Sara Lawrence-Lightfoot
John Lithgow
W.S. Merwin
Michael Pollan
Jeremy Scahill
David Simon
Jon Stewart
E.O. Wilson
Rev. Jeremiah Wright
Howard Zinn
and many others
Bill Moyers was a founding organizer of the Peace Corps, a senior White House assistant (and press secretary) to President Lyndon Johnson from 1963 until 1967, the publisher of Newsday, a senior news analyst for CBS News, and the producer of groundbreaking series for public television. He is the winner of more than thirty Emmy awards and nine Peabody awards. Among his bestselling books are Listening to America, A World of Ideas, The Power of Myth (with Joseph Campbell), and Moyers on America.
9781595586247 | The New Press
Related Resource