Anne Braden: Southern Patriot (1924-2006) is a first person documentary about the life of Anne McCarty Braden. Braden rejected her segregationist, privileged past to become one of the civil rights movement's staunchest white allies.
In the 1950s, Anne Braden was indicted on charges of sedition in a famous case after she helped buy a house for a Black family (the Wades) in an all-white suburb of Louisville, Kentucky.
An advocate of racial and economic equality for more than half a century, Ms. Braden was one of the white Southerners singled out for praise by the Rev. Dr. Martin Luther King Jr. in his "Letter from Birmingham Jail" in 1963.
She and her husband Carl Braden worked on Henry Wallace's campaign for the presidency and on the staff of the Southern Conference Educational Fund. Anne Braden edited its newspaper, The Southern Patriot.
In 1967, the Bradens were again indicted on charges of sedition, for helping to organize a protest against strip mining in eastern Kentucky. Braden's activism ultimately spanned nearly six decades, making her one of the most enduring white voices against racism in modern U.S. history.
[From the
New York Times obit
 and the
Subversive Southerner.
]
Preview
Anne Braden: Southern Patriot (1924-2006) was directed by Anne Lewis in partnership with Mimi Pickering and produced with Appalshop.
Anne Braden: Southern Patriot (1924-2006) — 3 minute sample from Anne Lewis on Vimeo.
Reviews
A gem of a film, accented with freedom fighters who speak firsthand about carving a path through a traumatized, violent, racist South, to make way for one of the largest and most effective nonviolent movements for social change the world has ever seen. —- Joan Baez
Deeply moving and a valuable contribution to American history. —- Pat Aufderheide, Center for Social Media, American University
A magnificent portrait of the Anne Braden I knew: courageous, militantly anti-racist to the core. Anne Braden changed my life; this film will change yours. —- Robin D. G. Kelley, author and historian
Related Resources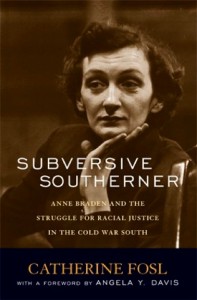 Subversive Southerner: Anne Braden and the Struggle for Racial Justice in the Cold War South by Catherine Fosl. The University Press of Kentucky. 2006. Subversive Southerner is the biography of Anne Braden in the context of the racism, sexism, and anticommunism of the twentieth-century.
Anne Braden Institute for Social Justice Research (ABI) seeks to advance public understanding of the U.S. civil rights movement, both its powerful history and its unfinished agenda of racial and social justice.
Portrait of Anne Braden by Robert Shetterly, Americans Who Tell the Truth. The painting features the quote by Braden: "As long as people of color can be written off as expendable, and therefore acceptable victims of the most extreme inequities, none of the basic injustices of our society will be addressed; they will only get worse."
Veterans of Hope interviews with Anne Braden by Dr. Vincent Harding. Harding explained that he selected Anne Braden for one of the earliest Veterans of Hope interviews "as a radiant announcement of the liberating truth that none of us needs to remain locked in the prison of our past if we are willing to move with audacious courage toward the freedom that awaits us."