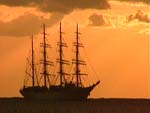 A comprehensive documentary that focuses on the events surrounding the overthrow of the Hawaiian monarchy in 1893. Through archival photographs, government documents, films, political cartoons, and dramatic reenactments, Act of War explores colonialism and the conquest of a Pacific Island nation by western missionaries and capitalists.
. . . outstanding documentary . . . still photos are used and interwoven with the story to add to the history and enjoyment . . . music and computer animation are subtly used. I compliment the Hawaiian consultants/writers. Their dedication and hard work will allow many teachers, students, and others the opportunity to know the history of the islands. — Video Rating Guide – Vol. 5, No. 3
Produced by Na Maka o ka `Aina. Funded by the Corporation for Public Broadcasting through the Independent Television Service and Native American Public Telecommunications. More information.
Trailer