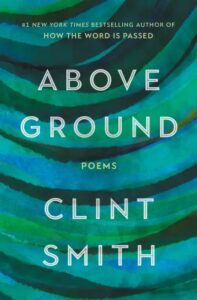 Clint Smith's new collection traverses the vast emotional terrain of fatherhood, and explores how becoming a parent has recalibrated his sense of the world. There are poems that interrogate the ways our lives are shaped by both personal lineages and historical institutions. There are poems that revel in the wonder of discovering the world anew through the eyes of your children, as they discover it for the first time. There are poems that meditate on what it means to raise a family in a world filled with constant social and political tumult.
Above Ground wrestles with how we hold wonder and despair in the same hands, how we carry intimate moments of joy and a collective sense of mourning in the same body. Smith's lyrical, narrative poems bring the reader on a journey not only through the early years of his children's lives, but through the changing world in which they are growing up — through the changing world of which we are all a part.
Above Ground follows Smith's first award-winning book of poetry, Counting Descent. [Adapted from publisher's description.]
ISBN: 9780316543033 | Little Brown and Company
I think there is an emergent theory, and maybe also a demand, when Clint Smith considers the brutalizing facts and language of war almost alongside a reverie about sprinkling sand on his baby's feet; when he mourns the long and brutal and ongoing history of American slavery almost alongside making French toast with the kids or dancing until the whole family falls down. When he makes us witness the most incomprehensibly awful (and daily) brutalities not only beside but almost in tandem with the most incomprehensibly tender (and daily) actions of care. It's a theory, and a demand, to which I think we must pay very close attention. — Ross Gay, author of Inciting Joy
When poet and Atlantic staff writer Clint Smith became a dad, it changed how he saw the world. With his second book of poetry, the father of two attempts to put all of his complicated feelings surrounding parenthood into perspective. Whether it be the utter joy of watching his children make new discoveries or the heartbreak of knowing you can't always protect your little ones from social injustice, the author of How the Word Is Passed doesn't sugarcoat the emotional rollercoaster that most parents are on. Above Ground is a beautiful meditation not only on Smith's own journey as a dad, but also on the effect our ever-changing world has on the way we raise our children. — Time, "23 Most Anticipated Books of 2023"
Book Release and Discussion
Below is a recording of the Above Ground book release and discussion with author Clint Smith and Elizabeth Acevedo, held at the Washington D.C. Martin Luther King Jr. Memorial Library on March 28, 2023.
Author Interview
Listen to an interview with author Clint Smith on NPR's Fresh Air below.