In partnership with StoryCorps' National Teachers Initiative
The Zinn Education Project partnered with the StoryCorps' National Teachers Initiative in 2011. We present here segments of the interviews about teaching people's history.

Long-time social justice teacher Elizabeth Davis interviewed by Zinn Education Project co-director Deborah Menkart
The principal asked me to return to Personnel because he did not want a woman teaching a shop class at his school.
Davis describes the discrimination she and her female students faced in her first year of teaching, and how this set her on a life-long path for social justice.
"They said, 'But why won't the community stop it?' I said, 'You're the community…so what are you going to do about it?'"
Davis inspires her students to launch a campaign to preserve their school as a national landmark of school desegregation.

Former Howard Zinn student William Holtzman has a conversation with high school teacher Robert Roth about bringing a people's history to the classroom
As teachers, our aim is to provide [students] with the tools that they can then use to make their own judgements, and that's what Zinn was about…providing a basis for critical thinking, and as teachers, that's what we always do.
Holtzman and Roth discuss Howard Zinn's impact on their lives, his impact on students, and how Roth provides historical context to current events using the earthquake in Haiti as an example.
Zinn's approach to teachers was to honor teachers, to work with teachers, and to have dialogue with teachers and that was appreciated.
Roth describes Zinn's impact on teaching history by providing a full view of historical moments.
There are many, many times where you have the choice of being honest with students or backing off. I think the more times you are real and honest and take risks, the better you are as a teacher.
Roth discusses why it's important for teachers to not compromise their values. He recounts the story of a Filipina student who questioned why there was no mention of the U.S. war with the Philippines in the school textbook. Roth assigned her an independent study project that has had a resounding impact throughout her life.
I think that if you're afraid to challenge some of the fundamentals of the mainstream view of American history, you're dancing around reality.
Roth gives an example of how people's history resources fill the textbook void about his students' histories; how he keeps it fresh; and why it's necessary to give a full perspective about so-called icons and heroes.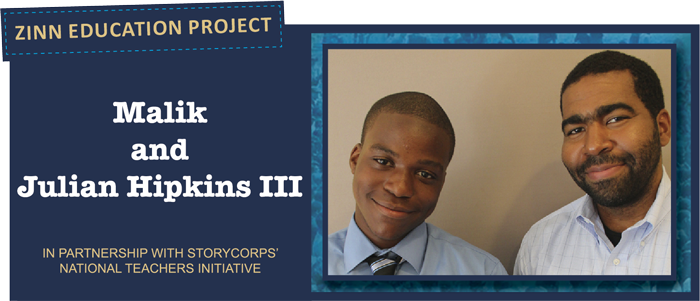 Student Malik and high school history teacher Julian Hipkins III
"I'll never forget the look on his face. He said, 'Why would they use a racial slur for their football team?'"
Hipkins explains why he's no longer a fan of the Washington, D.C. football team.
Produced by Lauren Cooper, with interviews recorded by StoryCorps, a national nonprofit with the mission is to provide people in the United States of all backgrounds and beliefs with the opportunity to record, share and preserve the stories of our lives.
These interviews were recorded on August 20-21, 2011, in Washington, D.C., as part of StoryCorps' National Teachers Initiative. The interviews were conducted at the Teaching for Change office. The StoryCorps' National Teacher Initiative Coordinator was Nicole Berger and Matt Herman and Daniel Littlewood served as the StoryCorps facilitators. Jack Gordon and Rick Reinhard took select photos each day. See photos on Flickr. Read more.
The interview of William Holtzman and Robert Roth was recorded on January 2012 in San Francisco.
Thank you to Casey Neill for allowing the use of his songs: Long March of the Exiles (1998), Radio Montana (2011), and Nightowl and the Skylark (2011).