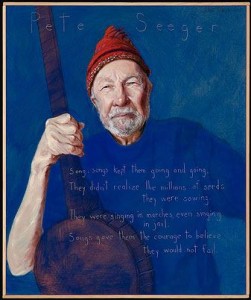 Song, songs kept them going and going; They didn't realize the millions of seeds they were sowing. They were singing in marches, even singing in jail. Songs gave them the courage to believe they would not fail.
May your songs keep us going, Pete Seeger (May 3, 1919 – Jan. 27, 2014).
Seeger's love affair with folk music and the banjo began at a Folk Festival he attended when he was sixteen. That love has informed his career and his activism. After two years of study at Harvard, he left to travel around the country, singing and mastering his craft. In 1940, Seeger met Woody Guthrie and they later formed the group the Almanac Singers. This group combined folk music with activism for the labor movement. Read more.
Portrait by Robert Shetterly from Americans Who Tell the Truth, also available as a poster. Text above from is from Americans Who Tell the Truth. Seeger's friend Howard Zinn also died #tdih, on Jan. 27, 2010.