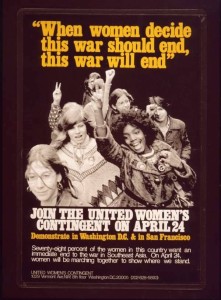 On April 24, 1971, 500,000 people demonstrated against the Vietnam War in Washington, D.C. It was the largest-ever demonstration opposing a U.S. war. Simultaneously, 150,000 people marched at a rally in San Francisco.
Prior to the massive rally, Vietnam Veterans Against the War staged a week-long series of demonstrations culminating in a protest at the U.S. Capitol where veterans threw back their service medals.
However, the rally in San Francisco highlighted fractures within the mainstream anti-war movement over race and imperialism. According to historian Daryl Maeda, a "Third World Coalition" of nonwhite activists requested to speak at the rally, but their request was denied by the rally's organizers. In response, the coalition stormed the stage, allowing Asian American anti-war activist Patsy Chan to speak.
While many moderate, predominantly white activists simply wanted to bring U.S. troops home from Vietnam, Third World groups highlighted the war's racist and imperialist underpinnings. In her speech, Chan emphasized solidarity with the people of Southeast Asia and connected the Vietnam War to the systemic barriers oppressing people of color and Indigenous people in the United States. She also drew parallels between the Vietnam War and other instances of U.S. imperialism, such as its occupation of the Philippines. In general, Third World activists stressed the racist impact of the war, such as the draft's disproportionate effects on Black, Latino, and Indigenous communities. Further, they highlighted the U.S. military's racist dehumanization of Southeast Asians, which justified the military's brutal tactics against Southeast Asian fighters and civilians.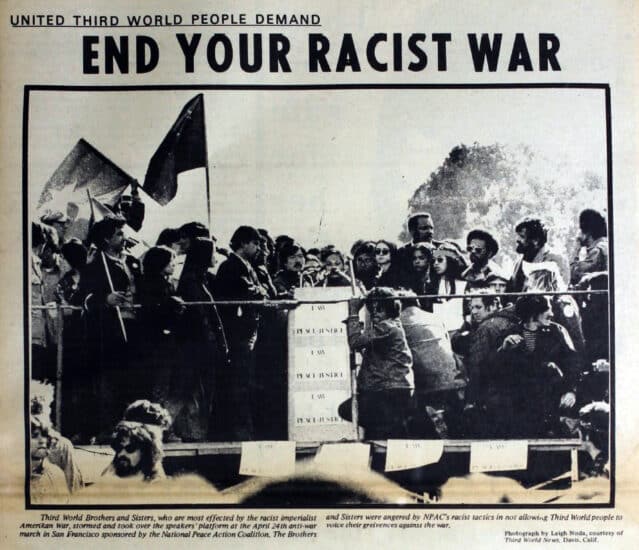 To learn more about Asian American and Third World opposition to the Vietnam War, check out In the Belly of the Monster: Asian American Opposition to the Vietnam War from Densho Digital Repository.
Find teaching resources below, including a 100-page teaching guide from the Zinn Education Project on the long history of Vietnam War, the anti-war movement, and whistleblowers.
Our thanks to Deborah Jung for contributing to this entry.