Dear Teaching for Black Lives study group members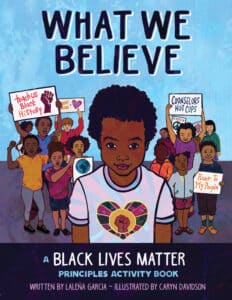 As we approach the end of the 2020-2021 school year, we'd love to hear from you — your stories and your feedback. The insights you share with us will help us design future offerings and continue the important work of the Teaching for Black Lives campaign. 
Next year, we will expand the number of study groups and also offer some dedicated programs for alumni (you) participants.
Please respond to the questions below. In appreciation for your time, we will mail you a copy of Laleña Garcia's What We Believe: A Black Lives Matter Principles Activity Book.
The last two questions, as indicated on the form, are just for the group coordinator(s) or lead liaison with the Zinn Education Project team.
Send us an email if you have questions.
Thank you,
Ursula Wolfe-Rocca and Jesse Hagopian
Zinn Education Project