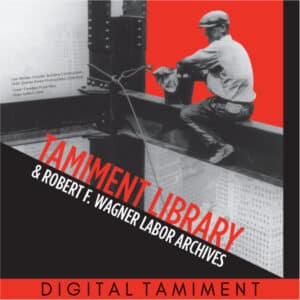 During the Howard Zinn Centennial week workshop on teaching about the Red Scare, participants were introduced to a collection of primary documents on Red Scare attacks against New York teachers. Compiled by Michael Koncewicz, Michael Nash Research Scholar at the Tamiment Library, the documents are from a 1940s investigation of "subversive activities" in New York City education. Linked below, they are all from the Tamiment Library at New York University.

Background
This brief background description of the documents was adapted from the New York State Archives finding aid for Investigation Files of the Rapp-Coudert Committee at the Tamiment Library and Robert F. Wagner Labor Archives.
The Joint Legislative Committee of the State Education System, chaired by Assemblyman Herbert A. Rapp, was created in 1940. Among other things, the Committee was given broad authority to study "the extent, if any, to which subversive activities may have been permitted to exist in the schools and colleges of the public educational system of the City of New York." A special subcommittee, known as the Rapp-Coudert Committee, chaired by Senator Frederick R. Coudert, was assigned to investigate whether left- and/or right-wing movements — Communism, Fascism and Nazism — had penetrated New York City public schools and colleges. 
By the conclusion of its investigation, the Committee had interviewed almost 700 people and interrogated some 500 witnesses in a series of open and closed hearings on the extent of "subversive activities" in New York City education, resulting in the removal of dozens of teachers, professors, and college administrators from their positions. 
Documents
The Foners
Committee to Defend the Foners 1
Committee to Defend the Foners 2
Committee to Defend the Foners 3
Dewey-Feinberg Law
Dewey Feinberg Pamphlet 1 of 4
Dewey Feinberg Pamphlet 2 of 4
Dewey Feinberg Pamphlet 3 of 4
Dewey Feinberg Pamphlet 4 of 4
The Teachers Union
Feinberg Law Regulations 1949
Summary of Evidence Against Teachers
Misc Resistance
We Want the Foners Back
Academic Freedom Brooklyn College