In the face of the new bill signed by Mississippi's governor signed on Monday to limit how race can be discussed in classrooms, we share this post — and book offer — again.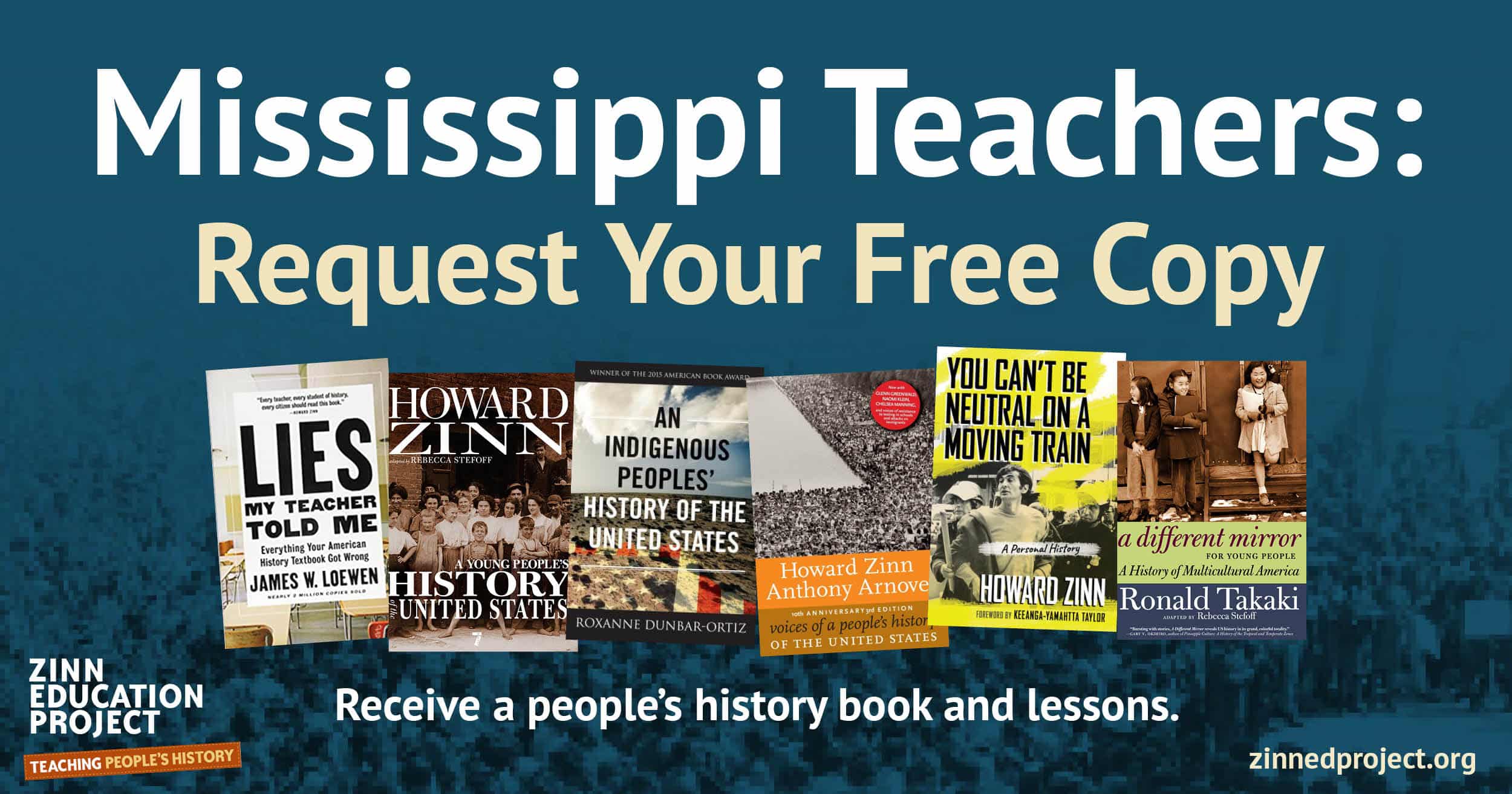 December, 2020: You may have heard: Mississippi Gov. Tate Reeves' new budget calls for $3 million for a "Patriotic Education Fund," which declares that "the United States is the greatest country in the history of the world," and promises to reward schools that combat the "revisionist history" that is "poisoning a generation." Reeves' budget proposal denounces the supposed "indoctrination in far-left socialist teachings that emphasize America's shortcomings," and demands that the curriculum instead focus on "the incredible accomplishments of the American Way."
In response, the Zinn Education Project will provide free people's history books and lessons to Mississippi middle and high school teachers and librarians who write to us.
The language introducing the Patriotic Education Fund echoes the attacks made on Howard Zinn, the Zinn Education Project, and the New York Times 1619 Project at the recent White House Conference on American History. The Mississippi initiative is designed to censor the teaching of people's history. No doubt, the governor knows that when students are taught to question the traditional White-makes-right history, this can lead to their thinking more critically. History that surfaces the perspectives of workers, women, Black people, Indigenous people, and people of color — whose voices are too often erased in the corporate-produced textbooks — empowers young people to challenge the inequality and injustice they see all around them.
For four long years, young people have been exposed to Trump's endorsements of white supremacy, repeated by many media outlets. As we enter a new era, it is more important than ever that educators demand the right to teach a people's history — a history that looks honestly at social injustice and at the movements that have sought to make this a more equal society.
The language in the proposed Mississippi budget is similar to legislation proposed in Arkansas in 2017, which would have banned Howard Zinn's books in public schools. In Arkansas, teachers and librarians responded with a resounding no to censorship, and the bill failed to get out of committee. With more than 400 teachers in Mississippi signed up at the Zinn Education Project to access our people's history lessons, we know that the governor's budget will face a similar challenge.
In solidarity with Mississippi educators and students — as we did in Arkansas — the Zinn Education Project will send a people's history text and people's history lessons to any middle or high school public school teacher or librarian there who requests them. This offer is made possible by donations from individuals and from publishers, including Beacon Press, Haymarket Books, Seven Stories Press, HarperCollins, and The New Press. We will send books to as many educators as donations allow.
Mississippi middle and high public school teachers: Fill out the form below to request your book and people's history lessons. (Note: We do not share our mailing nor email lists.)
Not a Mississippi teacher? Please donate so that we can send more people's history resources to teachers in Mississippi.