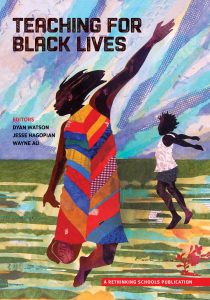 Ahead of the National Black Lives Matter at School Matter Week of Action, Milwaukee Public Schools received hundreds of copies of Teaching for Black Lives for educators, students, and public education activists to promote culturally relevant pedagogy and anti-racist teaching in Milwaukee Public Schools.
The book distribution and accompanying professional development were made possible through the generous contribution of $15,000 by a donor who also contributes to the Zinn Education Project.
Teaching for Black Lives co-editor Jesse Hagopian facilitated professional development using Teaching for Black Lives to support Milwaukee educators, students, families, and community members. Learn more from the short video below.
The event was organized and sponsored by Rethinking Schools, the Milwaukee Community Schools Partnership, Milwaukee Public Schools, Milwaukee Teachers' Education Association, and the Zinn Education Project donor.
The donation was inspired by a related effort in Seattle, funded by Michael Bennett and Macklemore. See the clip below.

Here is co-editor Dyan Watson reading an excerpt from the book.