On December 1, the Zinn Education Project presented the Teaching People's History award to Michael Charney. The award was presented at a house party for the Zinn Education Project in Chicago during the 2018 National Council for the Social Studies annual conference.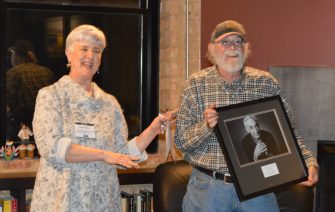 Zinn Education Project co-director Deborah Menkart presented the award. She said,
It is my great honor to present our second Teaching People's History Award.
The recipient does not know he is about to receive this award, and in fact is usually working tirelessly and humbly behind the scenes, as a teacher, an organizer, an ideas man, and a mentor to teachers and students.
We have decided (and we think his wife would agree) that it is time Michael Charney be honored — for the role he has played with the Zinn Education Project and also for many decades plowing the fields and planting the seeds for the world our children deserve.
Sharing all Michael's endeavors and impact would take longer than we have this evening. But most recently, Michael has instigated and supported the Zinn Education Project's Teach Reconstruction campaign. As he points out, Reconstruction is the one period in U.S. history that gives a clear example of the promise of an interracial democracy. But it was totally missing from the school curriculum. We have seen the power of his vision and strategic advice. Leading historians have signed on to endorse the campaign. Of the countless lessons we have posted at the Zinn Education Project site, the ones on Reconstruction are the most frequently downloaded.
We present this award to Michael for his role in Teaching People's History to children across the United States.
Michael Charney was genuinely surprised and shared a few words:
Thank you.
The idea of the importance of teaching about the 150th  anniversary of Reconstruction began with the title "When Black Lives Matter: Teaching about the Development of Interracial Democracy 150 Years Ago."
I immediately gravitated to the Zinn Education Project not only because of the quality of the lessons and the political outlook, but also the dedication and competence of the leadership to make sure that that the vision will really happen.
Currently we have great lessons, great curriculum, and we are reaching a lot of students and teachers. I hope in the next few years, we move into our next stage of having the advocacy power to force those who make all the decisions about curriculum to change their minds and make sure that Reconstruction is central to what our kids learn. So not only can we show resistance, but eventually, we can actually win.
---
Michael Charney is a retired public school social studies teacher with over 30 years of experience in education, labor organizing, and education policy. He provides strategic guidance to the campaign. Charney wrote curriculum guides to support student organizing including "Fulfilling the Promise of America: The Struggle for Voting Rights," "The Minimum Wage and the Youth Vote," and the "Present as History: A Look into the Origins of the Cleveland School Desegregation Case."