We invite historic sites and museums to host an event on June 10 as part of the Teach Truth Day of Action. The events are designed to defend the freedom to learn and the rights of LGBTQ+ students by highlighting the history that should be taught — but is threatened by the anti-CRT laws.
In past years, there have been activities at the Bainbridge Island Historical Museum, African American Civil War Museum, William Byron Rumford statue, Friendship Nine Student Protest marker, Alston House, Quindaro Underground Railroad Commemorative Landmark, Biddy Mason Memorial Park, Stone Mountain (a truth walk), and many more historic sites.
Hosting an event helps to defend the freedom to learn and gives visibility to historic sites and museums site locally and nationally. The more than 40 cosponsors are promoting the events with their members and the National Education Association is assisting with national media coverage.
To plan an action, pick a time and type of activity from the range of suggestions, such as a talk about the site, interpretive tour, Teach Banned Books photo frame, or book swap. It could be a tour that is already scheduled. The host can address the need to defend the right to teach truthfully at the opening or closing of the tour and distribute Teach Banned Books buttons and bookmarks.
Any size of group from 1 to 100+ makes a difference. Groups that sign up receive a media guide, Teach Banned Books buttons, graphics, and an optional pop-up Teach Banned Books display.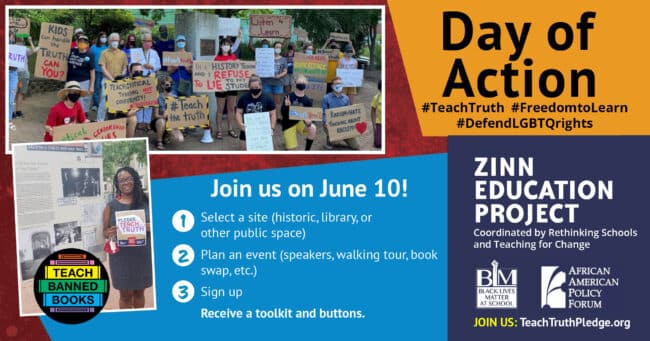 Media Workshop
Join us for an interactive Day of Action Media Workshop
Tuesday, May 23 at 4:00 pm PT / 7:00 pm ET.
This hands-on media workshop offers preparation for the day of action and beyond. Learn strategies to get your message across to the media and practice responding to FAQs on anti-CRT and anti-LGBTQ+ laws and book bans.
---
Cosponsors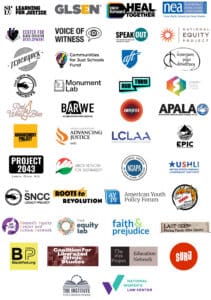 More than 40 groups have signed up to cosponsor the June 10 Teach Truth Day of Action, including Teach Rock, GLSEN, the Advancement Project, BlackPast, the National Education Association, and Learning for Justice. The organizations will promote the Teach Truth events to their networks and assist with media.