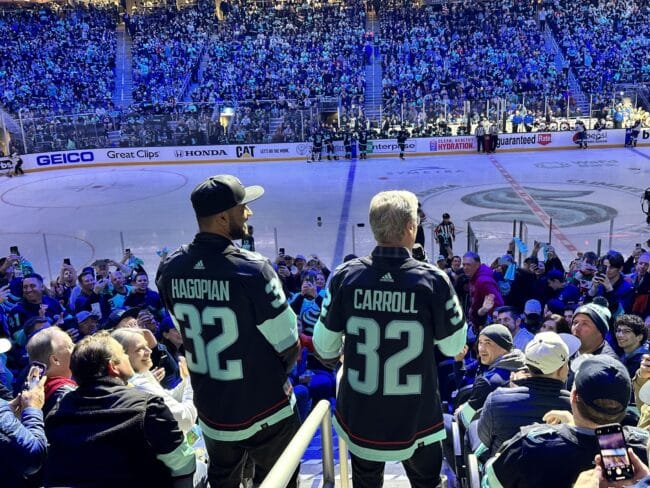 At the Seattle Kraken hockey game on April 22, Seahawks coach Pete Carroll announced the Hero of the Deep award to the tens of thousands of people in the stadium and watching online.
The recipient was none other than our Zinn Education Project leadership team member and Rethinking Schools editor Jesse Hagopian.
Carroll commended Jesse, who has taught high school in Seattle, for "leading the charge all over the country for racial justice in our schools, inspiring not only teachers but also students and all of us to do this great work." He added, "Because the real truth has got to be told about Black history."
The award for Jesse Hagopian is accompanied by a donation from the One Roof Foundation of $32,000 for our Teaching for Black Lives campaign. These funds will be dedicated to expanding the number of study groups and other programming for teachers in Washington state.
It was particularly meaningful to have the award presented by Carroll, who is a founding, annual donor to the Teaching for Black Lives campaign. We also receive support for the campaign from the Seahawks Players Equality & Justice for All Action Fund and the Players Coalition.