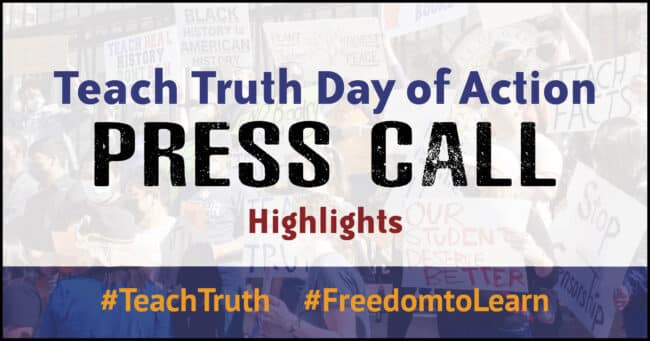 On Tuesday, June 6, the Zinn Education Project, in conjunction with more than 50 prominent racial and social justice organizations, held a national press call to discuss the growing chorus of diverse voices speaking out against politicians and their far-right supporters' attempts to attack students' freedom to learn and educators' freedom to teach.
For the past two summers, educators, students, parents and allies have joined across the country to speak out against politicians attempting to restrict the freedoms of educators and students and to make public their pledge to teach the truth. This year, from Seattle, Washington, to St. Augustine, Florida; Montgomery, Alabama; Kansas City, Kansas; and many towns and cities in between, organizers will host close to 100 events to defend the freedom to learn and to defend LGBTQ+ rights on June 10, 2023. See a map of exact locations.
During the first half of the 2022–23 school year, PEN America's Index of School Book Bans lists 1,477 instances of individual books banned, affecting 874 unique titles, an increase of 28 percent compared to the prior six months, January – June 2022. Eleven individuals are driving the overwhelming majority of book challenges, according to a recent Washington Post analysis. The majority of targeted books are by authors of color or Indigenous or LGBTQ+ authors.
Here are selected quotes from the speakers' remarks:
Cierra Kaler-Jones, executive director, Rethinking Schools and MC on behalf of the Zinn Education Project
This third annual day of action is a grassroots effort, led by teachers and allies around the country with the support of organizers, activists, young people, parents, and more to draw attention to the chilling effects the restrictive laws introduced or passed in at least 44 states that restrict, ban or censor what educators can teach and what their students can learn about history, LGBTQ+ rights, race, and gender, among other topics.
In places like Providence, the rally at a public library includes onsite phone banking to elected officials, a craft station, photo booth, banned books display, and speakers on organizing.
There are four events happening in Florida, including one at the marker for the Rosewood Massacre, where the speakers include an 84-year-old descendant who has written a new children's book about that event, a book that would be labeled as woke in Florida. In my home state of New Jersey there are events planned at historic sites in five cities.
Becky Pringle, president of the National Education Association 
It is my honor — as president of this nation's largest labor union — to be here today. Thank you to the Zinn Education Project, African American Policy Forum, and Black Lives Matter at School for hosting this National Day of Action to Teach the Truth press call.
The 3 million members of the NEA share one important goal: ensuring that every student — every one — have the joy, justice and excellence they need and deserve.
During a recent visit to Florida, I listened to Elijah, Juliette, and Victoria answer the question, "How does this ban on AP African American Studies impact you as students?" Their cogent, eloquent and passionate answers reminded me how amazing our students are. As two Black students and one white student, describing the loss of the opportunity to learn about themselves and each other, I knew they reflected the best of America. Our beautiful diversity. Our dogged determination. Our constant striving to be better. These brilliant students know the importance of the right to see themselves mirrored back in the books they read, and to have a window so that they can see each other. And as some politicians turn their attacks on educators and their unions, intent to drive us out of the profession, we know our public schools can be places where educators feel supported.

It is unconscionable that we have been forced to come together again to speak out against politicians who want to prevent educators from holding our responsibility, our moral obligation to teach the truth.
We are disgusted and outraged. But we aren't just angry. We are organizing. We aren't just angry. We are united. We are not just angry. We are channeling our anger into multi-layered, comprehensive action to beat back these laws that are having a chilling effect on what we can teach, and what our students can learn; "woke" laws that don't allow students to study the way race and racism have impacted America's legal and social systems — laws that threaten the basic tenets of education: academic freedom and free inquiry; don't say gay bills that have our students afraid to be their authentic selves, and educators afraid to support them.
For as long as it takes we will join our voices together to demand truth and literacy and justice for every student, and we will win because we must. We will fight and we will win because our students, our babies, are depending on us to be worthy of them.
Juan Andrade Jr. Ph.D., president, U.S. Hispanic Leadership Institute
This is arguably the most important issue and battle that we have before us today. It's part of an overall bigger struggle.
Our sense is that if we lose any more ground to these folks that are trying to undo us and our story, that democracy could collapse.
It's education that will help us survive, and that will keep our country moving.
There's no doubt that, keeping us in the dark, and erasing our history, and teaching no one about us, and what we have struggled to do over the years, is their plan, their strategy. Because the less people know, the easier they are to lead. The easier they're likely to believe when they do not know the truth. We're familiar with that saying: you shall know the truth, and the truth will make you free. We have to continue to believe that and pass that along to the generations that follow, to our children and to our grandchildren, and education is an integral part of that teaching process.
Even in my own case I remember, 53 years ago I became the first teacher in the United States to be arrested for speaking Spanish in my own classroom. Who is going to deprive a class, a classroom that is, majority Hispanics from learning in both languages? In my own classroom I was arrested on the third day of school for speaking Spanish in my own classroom. The greater good was that the legislature finally woke up and passed the law that allows for teachers like me to speak Spanish in the classroom.
We will not be quieted. We will not be put back. We will not have our history whitewashed by anyone. We have to stand firm and defend children's right to learn with all we can. 
Michael Rady, senior education program manager, GLSEN
I've heard firsthand from educators about the positive impact of our Rainbow Library collections for students. I've heard stories of school librarians that receive a set of our books and then the next day they're all checked out. I've heard stories where a student doesn't want to return a book to the school library because they feel so attached to the story that's on those pages. I've heard stories of students coming up to a librarian or an English teacher and asking them to purchase more books written by the same authors of the books that we sent them.
I've also heard firsthand from educators about the harm that these book banning attempts, driven by white supremacy, are having on our kids. These attempts to erase LGBTQ+ identities . . . making it so that students not only don't have access to those stories anymore, to that history, but making students feel like they don't have a place in that school. That classroom is not safe for them. So that is why GLSEN is continuing to do this work.
Rae Ingram, deputy organizing officer, Red, Wine, & Blue
We are multi-racial and intergenerational women, and the right wing would like you to think that suburban women are conservative or anti-CRT are anti-LGBTQ+. And that is just simply not true. The vast majority of suburban women support public education, LGBTQ rights and public education, and making sure that we teach the truth in our public schools.
We launched a parent playbook to help parents understand how to engage, attend, speak at, or even join a school board in their local community.  
We want folks to know that the freedom for folks to learn the truth is something that we all need to be invested in our very existence is all about making sure that folks have the truth to learn about our communities, our families, and our collective society.
Ellen Kahn, senior director of programs and partnerships, Human Rights Campaign
A culture of silence at best, and hostility at worst, causes direct harm to LGBTQ+ students who are already facing real threats from bullying and harassment in schools, to a lack of acceptance at home, and in the past year increasing worries about safety and wellbeing in the face of these ramped up legislative attacks on their freedom.
It's not just parents of LGBTQ kids who want schools to teach the truth about our existence and our experiences. Most parents, regardless of their own kids' identities, want their kids to be good citizens, to be respectful of others, to be allies to others as they move on to college or into the workforce.
Don Dumas, high school teacher, Bonita Vista High School, San Diego and member, California Teachers Association
I wanted to become a teacher in this community, particularly a history teacher, because a proper history education is liberating and the people in power know that. And that's why there is such a fight for history education, and how it's taught and if it's taught properly then it represents a threat to the traditional power structures in this country.
The mythology in which they would prefer history to be taught makes students feel that their condition, that their plight, their class, their family's position in this society, is their own fault. When they start to learn about the way society is structured by design, and that they are purposely denied opportunities in order for resources and power to be hoarded by the few, they get angry. And after anger they become active.
So that's what my students did. We talked about all of these bills that are being passed around the country. We talk about how education is political. They know that they understand that And so when I mentioned to them that we had this opportunity. There's this teach truth, day of action that we could participate in. They absolutely jumped at the opportunity.
---
A full recording of the press call is available on YouTube.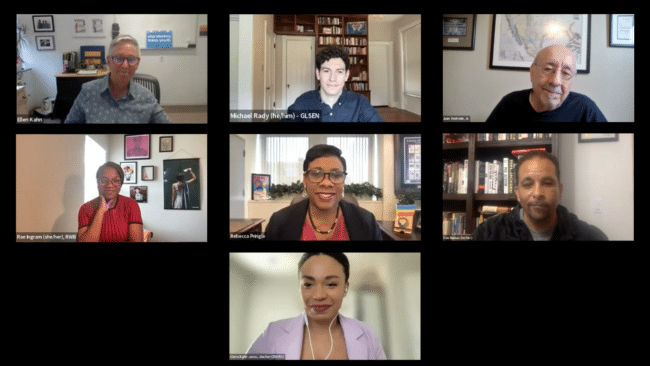 ---
For media inquiries, contact
Miguel Gonzalez, NEA Communications, 202-491-9532 (cell) | mgonzalez@nea.org
Deborah Menkart, Zinn Education Project co-director, 202-294-2703 (cell) | dmenkart@teachingforchange.org