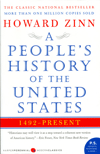 The Associated Press (AP) released a story today about an attempt to censor Howard Zinn's writing, including A People's History of the United States, in K-12 schools in Indiana.
We are pleased to report that 327 educators from Indiana are registered for the Zinn Education Project website and many more access our database of free resources for teaching people's history, outside the textbook. Below are excerpts and links to the full AP story by Tom LoBianco.
---
INDIANAPOLIS — Former Indiana Gov. Mitch Daniels pledged to promote academic freedom when he became president of Purdue University in January, but newly released emails show he attempted to eliminate what he considered liberal "propaganda" at Indiana's public universities while governor.
Emails obtained by The Associated Press through a Freedom of Information Act request show Daniels requested that historian and anti-war activist Howard Zinn's writings be banned from classrooms and asked for a "cleanup" of college courses. In another exchange, the Republican talks about cutting funding for a program run by a local university professor who was one of his sharpest critics.
The success of those efforts remains unclear; Zinn's book, for example, is still used in some courses for aspiring teachers. But Daniels did launch an expansive push while governor to change what courses those hopeful teachers could take for credit at Indiana colleges. That effort is ongoing.
The emails are raising eyebrows about Daniels' appointment as president of a major research university just months after critics questioned his lack of academic credentials and his hiring by a board of trustees he appointed.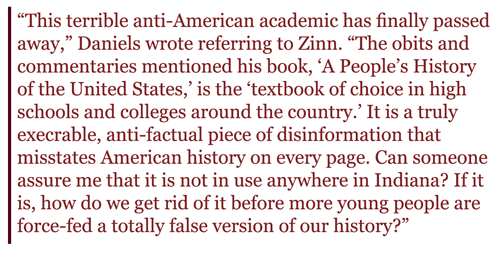 Ken Paulson, president of the First Amendment Center, said it's not unusual for governors or mayors to denounce art, music or popular culture. But he said he couldn't find any other examples of governors trying to censor political opponents.
"What sets this apart is what appears to be a back-channel effort by the governor to limit access to ideas," said Paulson, also dean of the College of Mass Communication at Middle Tennessee State University. "Under the First Amendment, the government is prohibited from trying to suppress expression with which it disagrees."
In a rapid exchange of emails between top state education officials on Feb. 9, 2010, including then-Superintendent of Public Instruction Tony Bennett, Daniels sought assurance that a Zinn book exploring historical events that Zinn said got little attention was removed from Indiana classrooms.
"This terrible anti-American academic has finally passed away," Daniels wrote. "The obits and commentaries mentioned his book, 'A People's History of the United States,' is the 'textbook of choice in high schools and colleges around the country.' It is a truly execrable, anti-factual piece of disinformation that misstates American history on every page.
"Can someone assure me that it is not in use anywhere in Indiana? If it is, how do we get rid of it before more young people are force-fed a totally false version of our history?"
Full Associated Press story on Indiana's R TV6. Reprinted from Huffington Post.
Update July 17, 2013: Daniels Denies Trying to Quash Academic Freedom, Tom LoBianco, Associated Press.