In Detroit, Michigan on June 19, 1982, Vincent Chin, a Chinese American, was beaten to death in a hate crime by two auto workers who blamed Chin for the massive lay-offs occurring in the auto industry. Before slipping into a coma, Chin's last words were, "It's not fair."
Arrested and released that same night, Ronald Ebens and Michael Nitz were charged with second-degree murder which they plead down to manslaughter. They denied the brutal attack was racially motived and received three year's probation and a $3,000 fine. The judge, who gave the sentencing offered, the following explanation:
These aren't the kind of men you send to jail. . .  You fit the punishment to the criminal, not the crime.
They never served one night in jail. Meanwhile, Chin was buried and what was supposed to have been is wedding day.
As Chris Fan wrote in Hyphen magazine,
But by far the most significant reaction to [the judge's] decision was the galvanization — indeed, weaponization — of the Asian American community. Its reaction was so powerful, and the coalition it formed so broad-based in terms of class, ethnicity and age group, that commentators have frequently claimed that no coherent Asian American identity truly existed before this moment. Continue reading "Vincent Chin: Some Lessons and Legacies" at Hyphen magazine.
Learn More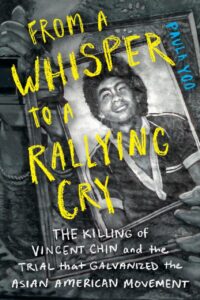 From a Whisper to a Rallying Cry: The Killing of Vincent Chin and the Trial That Galvanized the Asian American Movement (April 2021). The story of Vincent Chin and the movement galvanized by his murder is researched and written for young adults by award-winning children's book author Paula Yoo. Listen to an interview with Yoo on Fresh Air.
Watch the film Who Killed Vincent Chin? on P.O.V., directed by Christine Choy and Renee Tajima-Peña. As described by DC Asian Pacific American Film:
This Academy-Award nominated film is a powerful statement about racism in working-class America. It relates the stark facts of Vincent Chin's brutal murder. This tragic story is interwoven with the whole fabric of timely social concerns. It addresses issues such as the failure of our judicial system to value every citizen's rights equally, the collapse of the automobile industry under pressure from Japanese imports, and the souring of the American dream for the blue collar worker.
Find more resources on Asian American history below.