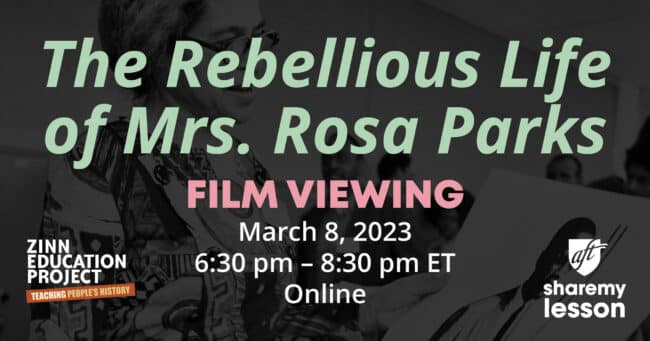 On International Women's Day, close to 400 teachers from around the country came together online to view the documentary The Rebellious Life of Mrs. Rosa Parks. The film is based on the bestselling biography by Jeanne Theoharis, who joined us for the film viewing and responded to questions in the chat.
Randi Weingarten, president of the AFT, welcomed participants and Jesse Hagopian of the Zinn Education Project shared reflections after the film.
Participants noted that the ability to chat while viewing provided a deeper understanding of the film and a sense of community. Here are some reflections:
I was alone physically, but I felt I was a part of a community.

It was awesome to see other educators communicating from around the world.

I love this platform and enjoyed the opportunity to share my reflections, as well as view others perspectives.

I appreciate the experience. It is a reminder that we are all in this together.
Exciting to see a growing movement of concerned educators all across the country on the chat!

The 

Newark

 Teaching for Black Lives group chat was on fire! We were moved as a group and everyone reflected on their personal connections and how we can share this feeling, experience, and knowledge with our students, staff, and families.
Attendees shared some of their insights or "take aways" from the film:
The "Movement" and how Rosa Parks was a trailblazer. She was well trained and an organizer. She had a heart and was the voice for the people. Her support made waves and made a difference in so many lives. Her story needs to be told, not just about refusing to give her seat, but for all she has done for the community, us, and the world.
Honestly, I got to know Rosa. I had no idea who she truly was and now I will never forget. I will also share so our students get to know Rosa Parks.
Hearing quotes from Rosa, as well as seeing her makes everything make more sense. It also puts more in perspective than just reading about her. It was also great seeing her family members.
I knew Ms. Parks was a longtime activist when she started the Montgomery Bus Boycott, but I didn't know how righteously radical she was. Glad to hear of her friendships with Malcolm X, Nelson Mandela, and many other Freedom Fighters.
The trajectory of her life is truly inspiring, and it places a number of intersectional pieces of the puzzle together when studying that period in history.
I'm a Gen X individual, and I had never been taught that Rosa was so involved. Her fight against sexual assault and her work with Malcolm X were a surprise. It was also inspiring to see how meticulous the Bus Boycott organization was. I loved seeing Mrs. Parks fighting spirit. This movie really spoke her truth and everyone needs to see!
While some details of her life were new to me, I appreciated most the consistent message here about her deeply radical perspective. I also felt deeply the painful irony of officially unveiling a statue of her sitting at the very moment the voting rights act was being gutted.
We asked about their plans to share the book and/or film with students and colleagues. Just about everyone said they plan to do so, here are some examples of how: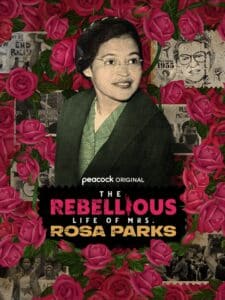 In celebration of Women's History Month, I am going to gather a set of student leaders in grades 5-8 to watch the movie and be part of a panel to unpack the power of Rosa Parks. The panel will introduce Rosa Parks and their own highlights based on what they take away from their discussions after the movie. Families, staff, and community leaders will be invited to see the movie at a special showing hosted by students in March.

The Newark Teaching for Black Lives group was watching together from our homes. We were texting in a group chat on the phone making plans for follow up activities. We are planning a student forum based on a viewing of the movies. We are hopeful to have a family, school, and community viewing, as well.
Emailing my principal now! I will start with both of my 5th grade classes and work my way up to 8th.
I will share the film with the equity team at our school to include in their women's history month curriculum.
As the group viewing took place today, I placed it on a big screen so that my colleagues were able to view it and we had a very deep discussion regarding some of the misconceptions surrounding Rosa Parks. I plan to share it with some of my students in the coming weeks.
The screening was hosted by AFT Share My Lesson and the Zinn Education Project, with support from Soledad O'Brien Productions and the Ford Foundation. The film is executive produced by journalist Soledad O'Brien and directed by Johanna Hamilton and Yoruba Richen.
Introduction and Closing Recordings
Welcome by Randi Weingarten
Closing by Jesse Hagopian
Free Books and Workshop
In addition to co-hosting the film screening, AFT Share My Lesson is offering a chance to win a class set of The Rebellious Life of Mrs. Rosa Parks and featuring a workshop on teaching about Rosa Parks during the 2023 Share My Lesson Virtual Conference.

More Ways to See the Film
Teachers and teacher educators can access licenses to share the film with their students through March 31, 2023. This is possible thanks to support from the Soledad O'Brien Productions and The Ford Foundation. In addition, the film is streaming on Peacock. Here is the trailer.
Starting with her childhood, the film chronicles Parks' childhood, her activism before and during the historic Montgomery Bus Boycott, her work for Congressman John Conyers in Detroit, and her involvement in causes such as voting rights, anti-apartheid, reparations, fair housing, women's rights, and the fight against police violence.
The film includes interviews with Jeanne Theoharis, Barbara Smith, Robin D. G. Kelley, Francis Gourrier, Keisha N. Blain, Mary Frances Berry, Ericka Huggins, Bryan Stevenson, Patrice Cullors, Rev. JoAnn Watson, Dan Aldridge, Ash-Lee Woodard Henderson, Frank Joyce, Jo Ann Robinson (archival), and more.
Teaching Guide
Check out the teaching guide for The Rebellious Life of Mrs. Rosa Parks book and film.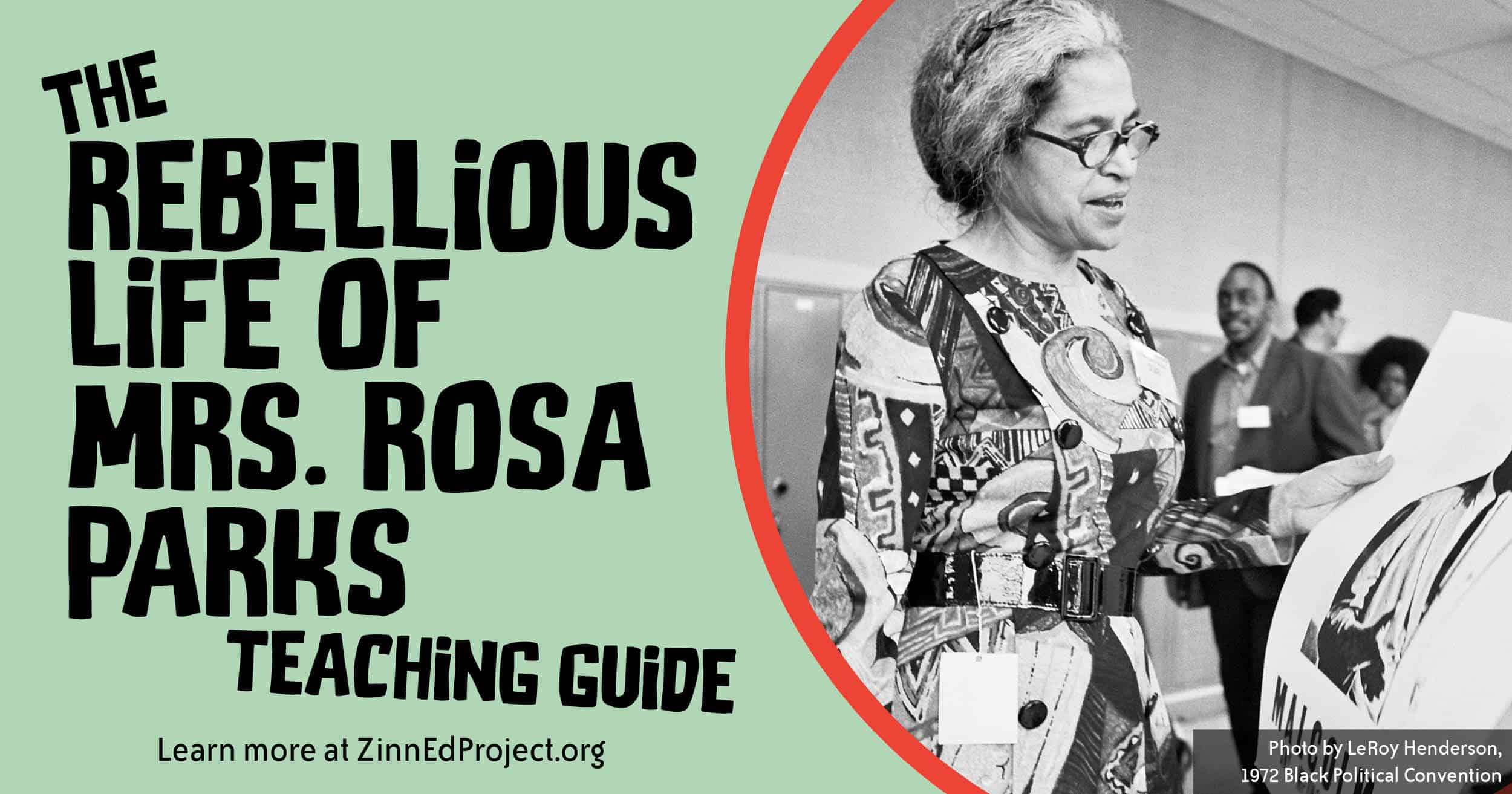 Find additional teaching resources below.