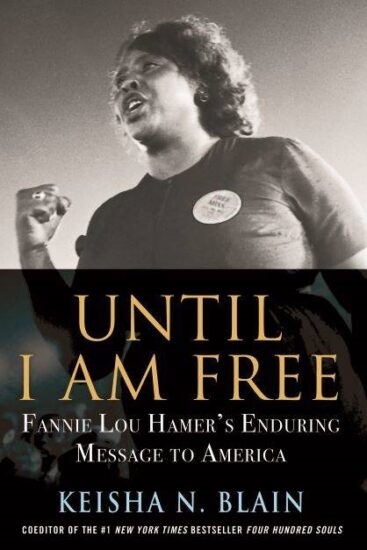 Sometimes it seem like to tell the truth today is to run the risk of being killed. But if I fall, I'll fall five feet four inches forward in the fight for freedom. I'm not backing off. — Fannie Lou Hamer
A blend of social commentary, biography, and intellectual history, Until I Am Free is a manifesto for anyone committed to social justice. The book challenges us to listen to a working-poor and disabled Black woman activist and intellectual of the civil rights movement as we grapple with contemporary concerns around race, inequality, and social justice.
Award-winning historian and New York Times best-selling author Keisha N. Blain situates SNCC veteran Fannie Lou Hamer as a key political thinker and demonstrates how her ideas remain salient for a new generation of activists committed to dismantling systems of oppression in the United States and across the globe.
Despite her limited material resources and the myriad challenges she endured as a Black woman living in poverty in Mississippi, Hamer committed herself to making a difference in the lives of others. She refused to be sidelined in the movement and refused to be intimidated by those of higher social status and with better jobs and education. In these pages, Hamer's words and ideas take center stage, allowing us all to hear the activist's voice and deeply engage her words, as though we had the privilege to sit right beside her. [Publisher's description]
A rich, detailed, and moving portrait of one of the most important civil rights activists in American history. — Clint Smith, author of How the Word Is Passed: A Reckoning with the History of Slavery Across America
Keisha Blain's magnificent Until I Am Free introduces us to Hamer the political thinker, the strategist and theorist, the internationalist whose expansive vision of freedom embraced the oppressed everywhere. A pathbreaking contribution to our history and a precious guide for today's activists fighting for the world Hamer envisioned. — Robin D. G. Kelley, author of Freedom Dreams: The Black Radical Imagination
With elegant, passionate, and powerful prose, award-winning historian Keisha Blain weaves together the political and intellectual legacy of Mississippi sharecropper and visionary political leader Fannie Lou Hamer with the contemporary struggle for racial justice and human freedom. . . . This book expands the boundaries of the Black radical political and intellectual tradition and re-centers a voice that is too prescient to be ignored. — Barbara Ransby, author of Making All Black Lives Matter: Reimagining Freedom in the Twenty-First Century
ISBN: 9780807061503 | Beacon Press
Listen to the author on this October 8, 2021 Democracy Now! segment "Until I Am Free": Keisha Blain on the Enduring Legacy of Voting Rights Pioneer Fannie Lou Hamer
Below are a lesson on voting rights that uses readings by Fannie Lou Hamer, a picture book, and other resources.